Monday, April 27, 2009
he'll always be sonic X to me.

the terrorist's worst fear
Saturday, August 27, 2005
Paintbrush'd!
Monday, August 22, 2005
After we move into the house in Cambridge we get to paint it up. Stairs, doors, walls, trims, the whole shebang. Plus the landlady will pay for it, and take off rent money for a job well done. The present paint is peeling and dirty, we need to give it a once over with benjamin moore and a strong focus on our craft. I know it will be beautiful art once we finish. Here is some other beautiful artwork.
DS Artwork
MOWA - Museum of Web Art
MOFA - Museum of Food Anomalies
hoogerbrugge.com
Benzi Box
Thursday, August 18, 2005
I made a new blog today. One with a Purpose! at least more so than this ramble. I won't be posting anymore music here because it will all go to
Benzi Box
henceforth. I used to have downloads of the day in my aim profile, I suppose this is just a natural progression. Tell your friends, steal some music. Does anyone know where I could get some cheap webspace?
yousendit
is great and all but If I can have a direct download it would make the site rock that much harder. And judging by my first post there (sigur ros), as it stands Benzi Box could afford to rock a little harder. All in due time.
http://benzibox.blogspot.com
once you start, you just can't stop
Tuesday, August 16, 2005
what's more entertaining than anonymous online confessions? nothing. its a voyeurtastic blend of the funny, the depressing, the sick and the sexy. i can read this shit for hours.

grouphug.us
and just because there hasn't been a picture in a few days, here is ted danson in blackface:
fun on the internet
Monday, August 15, 2005
news vs. news
Sunday, August 14, 2005
the hands of a government man
Saturday, August 13, 2005
dreaming of a blockbuster nba trade
Friday, August 12, 2005
i am a bored celtics fan.
Boston sends:
Paul Pierce
Marcus Banks
Qyntel Woods
2006 1st Round Pick
..to Clippers.
LA Clippers send:
Corey Maggette
Shaun Livingston
..to Boston
LA Result: The Clips become actual contenders (!!) in a weakened Western Conference, wielding a starting 5 of Sam Cassell/Cutino Mobley/Paul Pierce/Elton Brand/Chris Kaman with quality players like Chris Wilcox, Koralev, Banks and Woods on the bench.
Boston Result: Let the youngest team in the nba play and learn together for a couple of years, relying on vets like Ricky Davis, Maggette, Veal Scalabrine and Raef Lafrentz for leadership. Then sit back, relax, and wait for the dyansty to unfold:
PG: Shaun Livingston (Magic Johnson?)
SG: Ricky Davis/Tony Allen
SF: Gerald Green (TMac?)
PF: Al Jefferson (Moses Malone?)
C: Kendrick Perkins
Corey Maggette fills Pierce's current team role until Gerald is ready to start. We even already have some of our championship bench set with Delonte West, Justin Reed, Ryan Gomes, Scalabrine, Lafrentz..
Just trade Mark Blount for anything, absolutely anything that saves us from his contract, sign the kids in 3 years time and then...omfg
roy ayers ubiquity
Wednesday, August 10, 2005
lion or tiger or bear, uhr meh gurd
Monday, August 08, 2005
I decided a few months ago that I really want to have a pet. Maybe it's some kind of parental instinct or maybe I'm just jealous of Aaron and his frogs, but it's going to happen and hopefully sooner rather than later. Just a matter of figuring out what I can afford and what kind of animal I wouldn't mind having around for a good while. Like I said, my roomate has 5 tiny kermits and while they are at times amusing, they're just stupid, delicious frogs and they don't know what the hell is going on, they spend their days trying to eat rocks and making water dirty. Water pets live in a different world than the rest of us and for that reason we can never truly be friends- I need a buddy that breathes the same air i do. Any ways I narrowed it down to the following choices:
The Dog
This is the holy grail. The be-all, end-all of pets. If I had a dog life would be a bit sweeter- an old yeller to my Travis, a lassie to my Timmy. They cost a bundle because I'd want to get one as a puppy, that's all that keeps me from picking one up today. I need to find some farm kid giving away pups out of his pick up truck for free, but I think that kind of thing only happens in the south.
The Sugar Glider
This pet will crack open a nut, eat the tasty meat, use the shell for a hat and try to amuse you. They like to live in front pockets and will climb up on your shoulder before taking off and flying around to whatever piques it's fancy. Tiny marsupials that are native to Australia, there's a chance they aren't legal to own in Massachusets without a permit, but that doesn't stop me from wanting one.
The Southern Flying Squirrel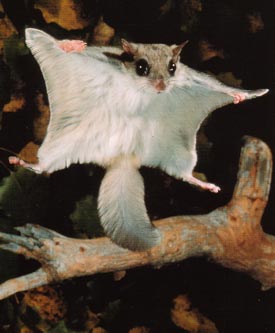 Less exotic and less interesting cousin to the sugar glider, only you can find one easier and cheaper and in a regular pet store. The new litters come in during the fall, and you have to get 'em then or else you just have a crazy wild squirrel flying around your house, and that's no proper buddy.
Some Fish
Probably inevitable, we're going to put the frogs in a big ol' tank and they would most likely get lonely, so some fish would provide ample company and a cool real-life screensaver for me. Not a real pet anyways, more like interactive furniture. Some of them look pretty funny. Still would want something a little more tangible.
The Nintendog
Digital version of my first choice, The Dog. Would require me buying a Nintendo DS, which is a pretty cool toy to have in of itself, and once I get one it won't cost me a penny more. Minuses include not actually being an animal. If I had my way, and a job that pays me decent money, I'll have my real dog warily eyeing my Nintendog and vice versa.
The Chinchilla
This is the only rodent-type pet i'd like to have.. the rest either remind me of mice (previous encounters with mice did not end well) or are smelly and remind me of my 4th grade teacher Ms. Bradley (a special lady who I will probably discuss in a future entry). Plus they bathe in dust, very cool.
The Lizard
Lizards seem like decent enough pets, but not too high up on the list personality-wise. I'd end up naming it something rather geekish like Bahamut or Onyxia. Anyways this is probably not the buddy for me, but I'd at least consider it and I check 'em out at the pet stores just in case.
So, that's what I'm working with. Got to research different breeds of dog now and see what would work best, if all goes well I'll be the proud owner of some critter within the next few months. And if anyone knows of another pet that rocks and rocks hard, please be sure to let me know.
adios mio
Sunday, August 07, 2005
i've been spending some time at home in long island, which means less interneting and more real life adventures for me recently. catching up with old friends, relaxing with the family, and enough sleep to make a mexican blush. got to head back to the bean soon to get ready for the big move into cambridge, but for now i'm all about the hometown.
the world wide web awaits:
ibrahim ferrer dies at 78
badmovies.org
sony to pay $1.5M over fake movie critic
R Kelly's 'Trapped in the Closet' Ch.1-5...as performed by The Sims (
1
2
3
4
5
)
gaming fm
the adventures of art lad
le monde diplomatique
banksy's site
here's to you, and chuck mangione.
chuck mangione - feels so good.mp3
(9 MB)
i'm bored
Wednesday, August 03, 2005
rock gawd!!1!
back on the wagon
Saturday, July 30, 2005
After a good 3 month hiatus, I decided to splurge 15 bucks and head back into the
World of Warcraft
yesterday. This game is addictive. Some people even call it World of WarCrack! Hey now! This is me, Clay:
Clay is a
Gnome
Mage
who just reached level 41. I made that robe, I think Clay is a snappy tailor. He's been known on occasion to cook up a
curiously tasty omlet
. Mostly he puts "the heat" on the bad guys, incendentally, with fire. There's some 3 and a half million people worldwide playing this game, a few thousand players is the average for the server I'm on (Llane). It is my first MMORPG and although I started out a "n00b" i like to think I have grown into something resembling "l33t" over time. The other players are pretty normal folk, most are friendly and helpful although it takes all kinds. It's totally fab and it even runs on os x. Now I need to find a way of making gold fast so I can finally buy my
robot chicken
.
hip hop hooray
Friday, July 29, 2005
MF Doom + Danger Mouse + Adult Swim =
DangerDoom - The Mouse and the Mask.zip
(57.6 MB)
there's a some skips, no cussin' - enjoy